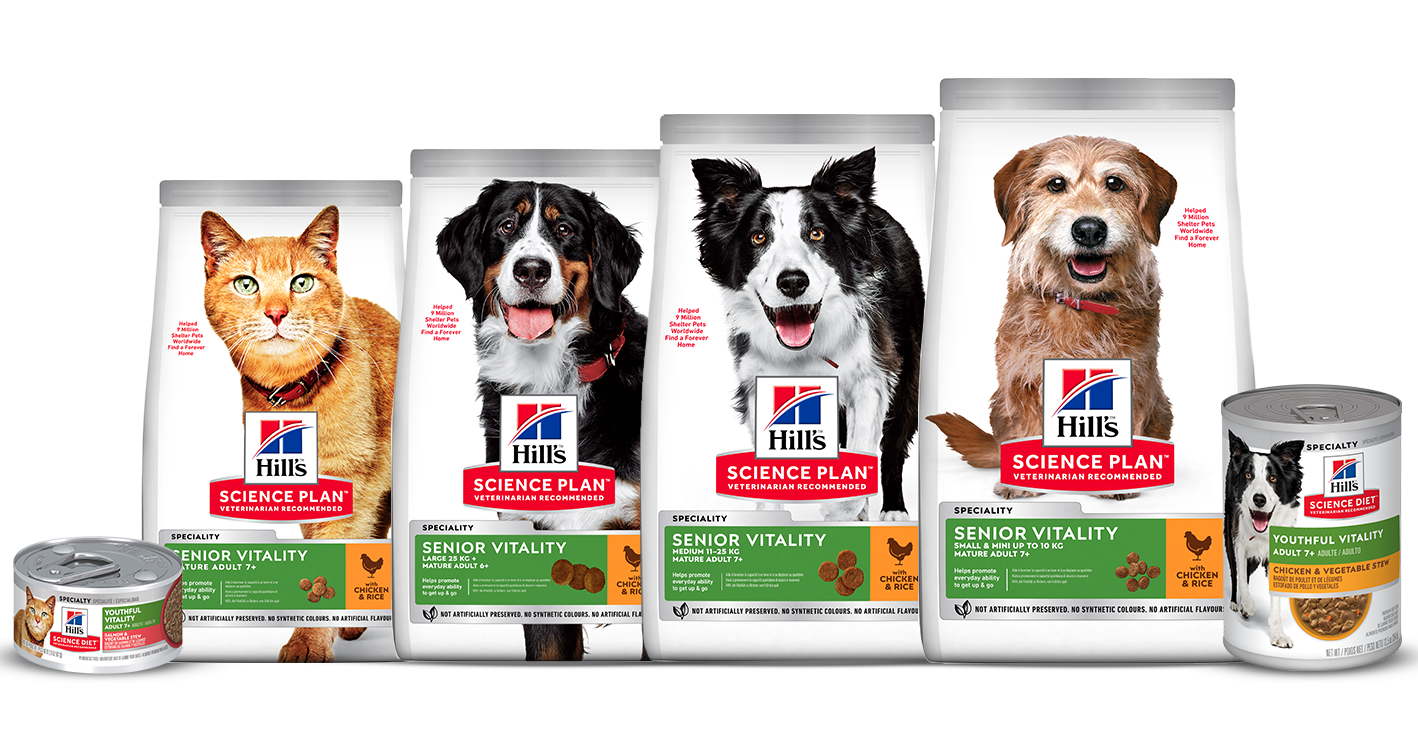 Fight the effects of ageing
Pets age much faster than people. If your pet is aged 7 and over they are considered senior, while large breed dogs reach the senior stage at age 5. It's at this age that pets' cell function starts to change, slowing pets down both mentally and physically, and their nutritional needs change as well.
Pet's spend more than half their lives as seniors but many miss out on the benefits of eating the right food as it's not always easy to spot the signs of ageing.
Watch out for the tell TAILS signs of ageing
T

HINKING - Your pet is now confused by ordinary things like how to find their bed, or is barking for no reason

A

CTIVITY - Naps have become more appealing than active play, running or jumping

I

NTERACTIONS - Your pet doesn't socialise with you as much as before

L

OSS OF CONTROL - Your pet is well trained but has started having accidents

S

LEEP-WAKE CYCLE - Sleeping patterns have changed with more awake time during the night
Through more than a decade of research into how nutrition impacts the ways cells function in pet's 7+, we've learned a lot about how the right food can help keep pets feeling like they are in their prime adult years, even if you haven't seen signs of ageing.
How it works
Created specifically for 7+ pets with the power of cutting edge food science, Science Plan Senior Vitality is breakthrough nutrition made with our proprietary recipe of natural ingredients including fruits and vegetables, added fatty acids, antioxidants, vitamins, minerals and amino acids – all working together to fight signs of ageing.
Brain Function - Powerful antioxidants for a healthy brain to support desire for family interaction

Energy and Vitality - Protein and L-carnitine support improved activity and everyday ability to get up and go 

Healthy Immune System - Vitamins C & E help bolster a strong immune system

Healthy Digestive System - High quality, easy-to-digest ingredients with great taste

Luxurious Coat - Essential fatty acids promote a coat with increased shininess and softness

 
Suitable for:
Cats and small & medium breed dogs from the age of 7 years old
Large breed dogs from the age of 5 years old
In a clinical study1, pets fed Hill's Science Plan Senior Vitality showed increased vitality, ability to get moving, running and playing, desire to interact and shinier, softer coats. 
In an in-house study, 70% of dog owners and 79% of cat owners saw improvements in one or more signs of ageing after just 30 days2.
1. Clinical study conducted with 214 dogs aged 7-15 years and 82 cats from 8-15 years and with US veterinarians and pet owners. 
2. In-House User Test study conducted with a prototype formulation (USA, 2015) via Applied Market Research (IMR) with 279 cats & dogs all above 7 years of age.