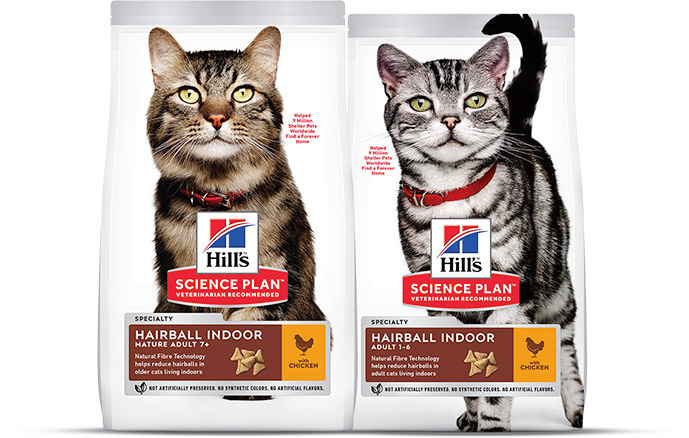 Specifically designed for cats prone to hairballs and cats living mostly indoors 
There is nothing pleasant about hairballs for cats or cat parents. From watching them happen to standing on one in the middle of the night - we would prefer to live without them.
Cats can spend up to five hours a day grooming, and can swallow as much as 173g of hair in a year. Most of the time, these hairs just pass through the system, but sometimes they form a hairball that your cat will vomit up. Some cats may "cough" one up as often as once every week or two. 
Which cats are more likely to suffer from hairballs?
Long-haired cats, like Persians and Maine Coons
Cats who live mostly indoors and spend more time grooming
Compulsive groomers
Cats that shed a lot
Cats who moult their winter coats
How it works
Hill's Science Plan Hairball Indoor dramatically reduces the formation of hairballs with:
Natural Fibre Technology combines with swallowed hair to safely and naturally move them through the digestive system
Low in fat and calories to help maintain ideal body weight
Controlled mineral levels support urinary health
Special formulation that helps reduce stool odour
Triangular shaped kibble, easier for flat faced cats to pick up and eat
Suitable for:
Cats prone to hairballs, particularly long-haired cats and cats living mostly indoors
Available in Adult and Mature Adult formula