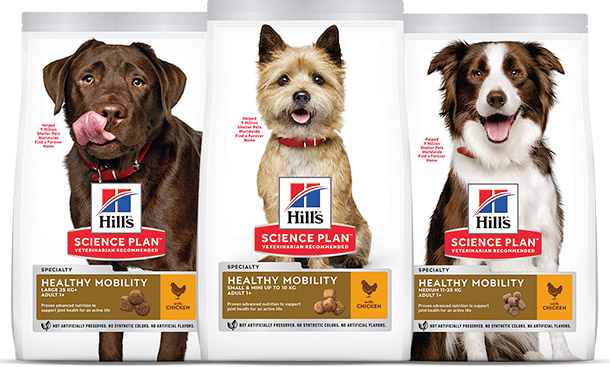 Keeps joints healthy and protects mobility
Just like us, pets can experience aches and pains or occasional joint stiffness as they get older. This can greatly affect the dog's overall mobility and ability to play, often leading to weight gain and loss of interest in life in general.
Up to 40% of dogs show signs of joint sensitivity and if not managed properly it can become extremely painful and debilitating. 
Although mobility problems can occur for many reasons:
Age - cartilage degenerates as dogs get older
Breed - large breed dogs are more likely to have hip or elbow dysplasia, while some breeds are more prone to arthritis
Excess weight - means excess stress on the joints and cartilage
Accident or injury - previous trauma that may adversely affect mobility later in life 
Spotting the signs of joint sensitivity in the winter cold is often easier: your pet may be stiff, less playful, move around less and sleep more than usual.
It's never too soon to start looking out for the signs of joint sensitivity, catching them early can help manage this painful condition.
Hill's expertise in therapeutic nutrition has resulted in great success in supporting mobility care. From this we have learnt how important preventative joint care is in dogs, even when they are young and healthy. 
How it works
Hill's Science Plan Healthy Mobility is enriched with Omega-3 fatty acids from fish oils (EPA) and clinically proven antioxidants to support active mobility, joint flexibility and ease of movement through healthy joints.
EPA from fish oil helps keep joint cartilage healthy
Glucosamine & chondroitin are building blocks of healthy cartilage
L-carnitine helps limit weight gain and load-bearing on the joints and maintains lean muscle to support the joints. 
Suitable for:
Ideal for active dogs and breeds that are prone to joint sensitivity
Can be fed to the whole dog family from 1 year onwards.