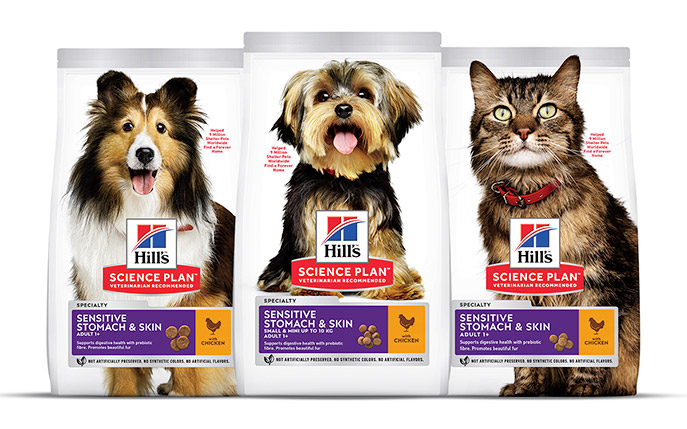 For a shiny coat and occasional upset tummies 
Skin conditions and occasional tummy upsets are very common concerns among pet parents. Even healthy pets can occasionally experience these sensitivities, and often they can occur at the same time.
While a sensitivity to food could affect both the stomach and skin, a pet's itchy, flaky skin may be a result of the surrounding environment or fleas and upset tummies could result from eating something new or inappropriate, infections or even stress.
Certain dog breeds may be more prone to digestive issues and flatulence such as Bulldogs, Pugs, German Shepherd Dogs, Labradors, along with middle-aged and older cats.  
How it works
One delicious food created for pets with sensitive skin, sensitive stomachs – or both! Science Plan
Sensitive Stomach & Skin is precisely balanced with high levels of clinically proven antioxidants, added vitamins and minerals formulated to support healthy skin and gentle digestion for dogs and cats.
Enhanced levels of omega-3's & -6's and Vitamin E replenish natural oils and nourish the skin for a healthy skin & shiny coat
Prebiotic fibre to fuel beneficial gut bacteria and support digestive health
Easy-to-digest ingredients & fibers for healthy digestion & easier stool pick-up
Suitable for:

Adult pets from 1 - 7 years particularly those with dry, flaky and itchy skin, a dull coat, occasional upset stomachs and flatulence, or a combination of these concerns.